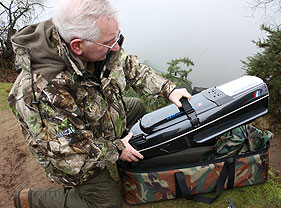 ABOUT US:
Boat Development
The Deliverance concept started in 2004. While fishing using top brand bait boats available at the time I became frustrated at their limitations. I decided the only way to get everything I needed out of a bait boat as an angler was to develop and build my own.
The design requirements I needed were:
A long range boat
Reliability
Performance
All weather use
Simple operation
The first Deliverance boat was made from balsa wood and stuck together with nails and glue, and although very crude it did fulfill most of the initial design criteria. I built numerous other boats in the years to follow as a hobby and gave them away to friends in the carp fishing world. Only after feedback from them, was I persuaded to go into business with the aim of producing a quality product with specifications not available from anything else in the market place.
Since then Deliverance has grown into the company it is today as we have continuously carried on developing our products. The latest boat models feature a double skin hull, which allows the design to encompass an integral weed guard and if required a camera, as well as several other improvements. All models now also include a unique plugless battery system.
Mike Wilcock
Design & Development Manager