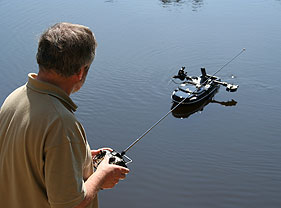 TESTIMONIALS:
User's Views
View testimonial from:

Brian Skoyles

Jason Speller

Mike Hunt

Steve Whittles

Michael Dodd
Brian Skoyles
"My first bait boat from Mike didn't have a name, because at that time, it wasn't a company producing bait boats, it was an enthusiastic carp angler, and very skilled model boat maker, making the odd boats for lucky locals in the know. I became one the lucky locals in the know, sold the boat I had, and have had one of Mike's boats ever since.
So why do I continue to put my faith in a Deliverance bait boat?
Firstly I find the Deliverance very easy to use. The top loading bait/rig hopper is simplicity itself, and you don't need to take the boat out of the water if doing multiple rod set ups. If on a long session, changing batteries, and keeping the spares charged is not difficult, plus the battery life is very good anyhow.
I've used my boat in a wide range of angling situations, and some extreme weather conditions. It has never let me down, and I'm happy to send it out in very rough weather. When I was filming an episode of Carp Crew 2 for Discovery TV, they wanted to include some bait boat footage, and I had no hesitation in taking my Deliverance. It took some real hammer, including having cameras taped to it, having to drag cables out with it, etc. Was it a problem? No way, the boat just got on with it, but I got a telling off from Mike for all the sticky tape etc on it, when I took it in for servicing!
The simple hopper system also suits the range of baits I use, from very sloppy particles to pellets and boilies. Oh and by the way it is brilliant for dead-baits when long range piking.
It also can't be beaten on reliability. A model boat enthusiast might well put up with problems or tweak things to make it work to perfection. As an angler I can't be doing with all that, I simply want a boat that works whenever I take it to the bank.
Overall it's a lovely piece of kit... quiet, efficient, easy to maintain, reliable and simple to use. What more can you ask for?"