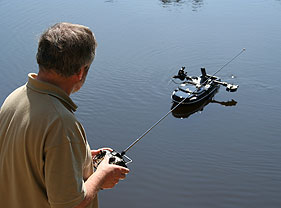 TESTIMONIALS:
User's Views
View testimonial from:

Brian Skoyles

Jason Speller

Mike Hunt

Steve Whittles

Michael Dodd
Jason Speller
"In this world of bad customer service and ever increasing prices I thought it would be nice to share with you a brilliant customer experience I've just had in this world of carping.
Over a year ago I purchased a bait boat shell from E-Bay off a man called Mike Wilcock from Deliverance Bait Boats. Mike sold me all the bits to complete the boat and even took the time to draw plans of how it all went together. Now not being the modelling type I had several conversations with Mike about how to put things together, electrics the whole lot. Mike even took the time to invite me to the carp show to show me to give me his new prototype rudder system to make my boat run more efficiently.
Mike has the patience of a saint and I'm sure at times got quite frustrated with me although he always remained polite and helpful.
The biggest shock came the other day when I had a problem with my boat, bearing in mind I hadn't spoke to Mike for over a year, when I phoned him (disturbing his dinner) he remembered my name, address and everything and even better knew straight away what the problem was with my boat. He sent me a new improved propshaft and propeller in the post and even better it was half the price of the local model shop.
I thought it would be nice to show that in this day and age were everyone seems to be out for all they can get there are still some people who know what customer service is and better still they value it.
It continues to be a pleasure to do business with Mike."