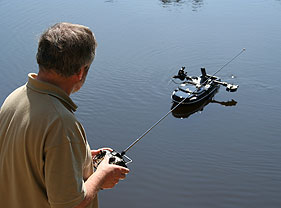 TESTIMONIALS:
User's Views
View testimonial from:

Brian Skoyles

Jason Speller

Mike Hunt

Steve Whittles

Michael Dodd
Mick Hunt
"I have used my Deliverance bait boat extensively and it has been out on some of mainland Britain's biggest waters and in some quite inclement weather.
Loch Awe in a near gale, Lomond in the wet, Coniston in typical Lakeland weather and Windermere in smooth and rough conditions from both bank and boat (it's extremely useful from a boat you know).
It has performed faultlessly (although I do attach a safety line when from the bank on these big waters as a failure would mean the boat ending up miles away. They are not exactly your average carp ponds). The radio system, the new motor and all servos have never missed a beat despite the conditions. It hasn't leaked a drop.
I have a Smartcast mounted in the outrigger although it does struggle at times on very steep drop offs at depth. I think this is a nature of that bloody awful 90 degree cone it transmits. That aside though it works extremely well and I get a range of about 150 yards from it which suits me perfectly.
A sight to behold was it on Awe in March this year, powering through 2ft waves to deliver a big deadbait onto a dropoff some 60 yards out. Could barely see it!
Great stuff."