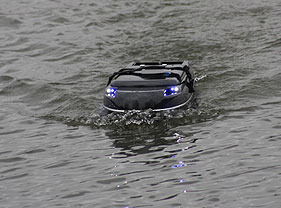 PRODUCT RANGE:
Standard Model
HULL
Gloss ABS plastic to give a stunning showroom finish. The Deliverance-TS (twin skin) has a revolutionary built in weed guard system. Not only a stunning design feature, but also gives even more stability in rough conditions. The twin skin construction means the propeller and rudder are completely enclosed inside the hull to protect from weed and pond debris.
Hull and deck secured together with adhesive and stainless steel screws to ensure strength and waterproof integrity.
Stabilisers fitted either side of the hull give extra buoyancy where it is needed, with increased stability in adverse weather or wave conditions.
Plastic chrome bumpstop to protect your boat from bankside and collision damage.
MOTOR
Boats are now fitted with an upgraded motor system. The 12-18 volt motor, has an extremely low current draw, which results in cool running and unprecedented battery life.
I, personally, used the boat in France on Castle Lakes for 4 days without changing the batteries. I then simply plugged the boat onto the solar panel and continued for the rest of my week without problems.
RUNNING GEAR
Shrouded rudder results in a turning circle of the boat's length, incredible when you think the boat is 3ft in length.
HOPPER
Choice of 2 systems available - the original drop doors (still a firm favourite) or the roll-over chain drive hopper for greater capacity. Stipulate at time of ordering.
ELECTRONICS
3 battery system: 2 to power motor and lights, 1 to power rollover and rudder.
Mains charging via a 500 m.amp mains charger overnight.
New development, from July 2007, all boats will have our own designed plugless battery system. This system gives greater simplicity and reliablity.
Lights, high visibility, red LEDs at rear with 2 blue lights at the front, and 2 white lights on certain models. Innovative day or night recovery system with recessed headlights mean that the blue LEDs are only visible when the boat is absolutely 'head on'- the result being that the angler can bring the boat back from any range in total darkness.
HANDSET
A 5 channel 2.4G. Designated hopper drop channel for 100% drop reliability (no more margin feeding!). Boat range in excess of 500m if your eyes are good enough.